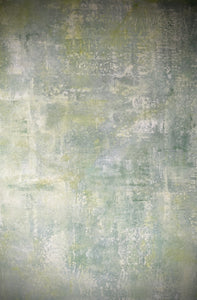 'Fleur' Hand-painted Photography Background Board - Soft greens and cream
Regular price $0.00 $129.00 Sale
Fleur blends soft pastel and lime green with cream/chalk overtones to give a beautiful spring/summer feel. Through dragging, ragging and sponging an organic pattern evolves, with areas of both high and low contrast so you can select blended or detailed areas as you need.  
Our painted photography backgrounds are original, hand crafted pieces made to order.  As such there will be variations from the images shown and you will have a one-off piece of art, completely unique to you.
Our painting techniques, construction and sealing process mean these backgrounds are built to last, we hope you will enjoy many years of photography with them.
custom-made to order, usually dispatched within 5 working days, but often sooner- let us know if you need it for a certain date and if we say 'we can' then we will!
Material -

60x60cm on 9mm high grade ply,
60x90cm on 9mm high grade ply with timber frame,
80x120cm on 9mm high grade ply with timber frame

Media - acrylic and emulsion paint.
Water resistant - double sealed for a matt, colourfast, wipe-clean surface.   
For details of other background options and the benefits each type and size offers please read our blog post - Guide to photography background types
For more care instructions please click here.
Need a different size? Want this design in a different colour? Please get in touch with Tom in the workshop - tom@woodrowstudios.co.uk